"Uplifting and beautifully told, Defiant Lives subverts our expectations."
– Nicole Ma – Director Putuparri and the Rainmakers
Defiant Lives is the previously untold story of how the disability rights movement in the United States, Britain and Australia literally changed the world we live in.
The film features interviews with more than 30 of the leading activists of the past 40 years, plus more than 600 pieces of archival footage and photographs sourced from around the globe. The story is supported by a stirring soundtrack, which strongly places the audience emotionally at the heart of the action.
In 2010 filmmaker Sarah Barton received a Churchill Fellowship, which allowed her to travel to America and England to research her idea for a film about the disability rights movement. During that 8-week journey she travelled with her camera, tripod, lighting and sound gear and recorded 27 interviews with activists. "I knew that I would only get one chance to meet these people so I regarded the process as recording my research, and those recordings became the bedrock of the film."
Upon her return to Australia Sarah continued to interview key Australian activists and built up a compelling picture of how the story could be told. Her work was supported along the way by several small grants but in 2015 Screen Australia came on board with a major grant that would allow the film to be completed to the highest standard.
Sarah had worked with long time collaborator editor Rob Murphy to create a strong trailer that convinced Screen Australia get involved. They now began work on the full film, which ultimately went through 14 rough cuts in order to find the structure that best tells this story.
Archival research began in earnest and soon Sarah was on a plane again to Minnesota where a large archive of ADAPT protest and activist footage was discovered. Back in Melbourne Sarah continued to work with co-producer Liz Burke, archival researcher Lenny de Vries and editor Rob Murphy to bring the film together. Tracking ownership and clearing rights for the huge volume of archival material was a mammoth task that took several months. "In many ways the internet was our biggest friend and our worst enemy. We would find this fantastic footage online but then could spend weeks trying to find out who owned it and how to get permission to use it." says Sarah.
Erin McKimm did a magnificent job as our composer and sound designer. He really threw his heart and soul into this film and the soundtrack is wonderful the way is enhances the old footage, some of which is pretty rough. Sonar Music also contributed some lovely music cues to the soundtrack. Andrew McGrath from Soundwaves did a fantastic job with the sound mix. In cinemas the film has surround sound to make audiences feel they are at the heart of the action.
Defiant Lives took eight years from receiving its first development grant from Film Victoria to completion late in 2016. Sadly during that time many of the activists who appear in the film have died. This is a timely film that urgently needed to be made. By necessity there are many people and stories who are not featured in Defiant Lives whose contributions were important. It's the nature of a feature film that there's a limit to what can be squeezed in and what serves the overarching narrative.
Hopefully in time there will be more interest in the disability rights movement and more films that tell the stories of those who were omitted from Defiant Lives.
"Lead on, I love you." Justin Dart – Disability Rights Leader.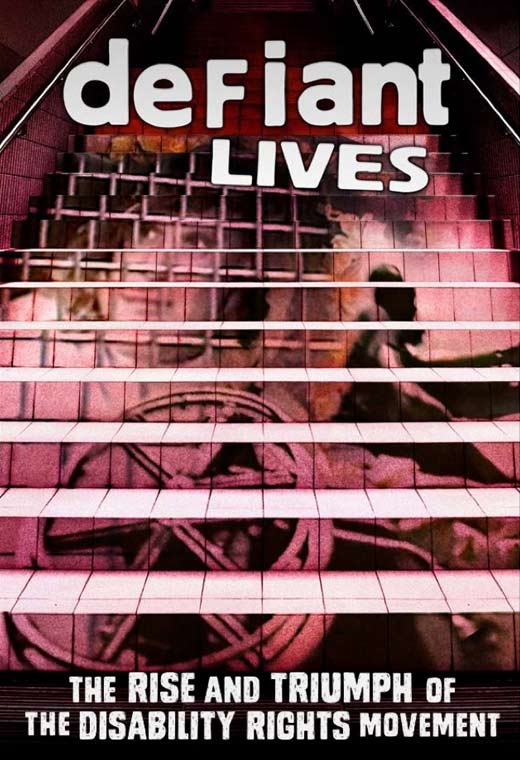 Defiant Lives introduces the world to the most impressive activists you've never heard of and tells the story of the rise and fight of the disability rights movement in the United States, Britain and Australia.
Featuring exclusive interviews with elders (some now deceased) who've led the movement over the past five decades, the film weaves together never-before-seen archival footage with the often-confronting personal stories of disabled men and women as they moved from being warehoused in institutions to fighting for independence and control over their lives. Once freed from their imprisonment, disabled men and women took on the big charities, criticising the use of celebrities to beg on their behalf. They chained themselves to public transport around the world and demanded access "to boldly go where everyone else has gone before"; and they lobbied for support to live ordinary lives in the community with family, lovers and friends.
Defiant Lives is a triumphant film full of extraordinary characters who put their lives on the line to create a better and very different world where everyone regardless of impairment is valued and can participate.